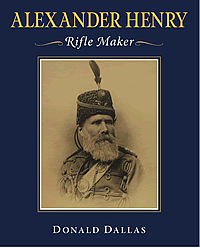 ONLY 18 COPIES REMAINING
Published as a private publication for Donald Dallas by Quiller Publishing 2017. 12″x10″ hardback, 328 pages 350 photographs. Price £100 excluding postage.
This book gives an in depth history of Edinburgh rifle maker Alexander Henry.

Born in 1818, he was apprenticed to Thomas Mortimer and subsequently set up on his own in 1852 at South St Andrew Street.
In 1860 he took out one of the most famous patents of the 19th century that created the extremely accurate Henry rifling. He invented a falling block action in 1865 that became the most popular and successful of all such actions.
In 1870 he gave his name to weapon of the British Army, the Martini-Henry rifle. His rifles were revered for their accuracy and his Dimensions Books contain thousands of orders from British and European royalty, the aristocracy, Indian Maharajahs and big game hunters. Alexander Henry died in 1894 and the business continued until 1950.
LIMITED EDITION OF 750 SIGNED AND NUMBERED COPIES. EVERY SINGLE HENRY GUN/RIFLE LISTED WITH DETAILS (Over 8000). THE FIRST DEFINITIVE HISTORY OF ALEXANDER HENRY
Price £100 excluding postage
Please click the add to basket button to add this book to our Roman Cart shopping cart. You may continue to add items by clicking continue shopping or go to our Paypal page to complete the purchase.
Signing and Dedication, I will sign and personally dedicate each book if you wish. Just fill in the box below.