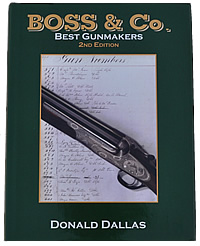 SOLD OUT
The gunmaking firm of Boss & Co. has been in continuous existence for two centuries. Its logo, "Builders of Best Guns Only" was conceived without any arrogance and perfectly describes both the firm and its founder Thomas Boss (1790-1857), who built sporting guns and rifles of the highest quality only. This tradition was carried on after his death and today the firm produces best guns to exactly the same standard.
Not only have Boss & Co. produced "Best Guns Only", they have also been responsible for major technical innovations in gunmaking. John Robertson, the proprietor of Boss at the turn of the 20th century produced the first reliable single trigger that won universal acclaim. He also invented an over and under gun that is generally agreed to be the lightest and most handsome over and under ever produced.
Donald Dallas has undertaken considerable research into the history of the family and the guns they built. He charts the changes, fortunes and misfortunes of the business throughout its history; Thomas Boss building trusses in the 1820's, Thomas Boss contracting cholera in 1849 and John Robertson's period of inventive ingenuity pre 1914. The story is always closely linked both to the particular and more general phases of gunmaking.
This second edition brings the history of the firm right up to date. Over 100 new photographs have been inserted and much fresh material published for the first time. New appendices have been added and the appendix on all the engravers who worked for Boss will prove to be of great interest to Boss owners. Serial numbers are given right up to the present day, enabling guns to be dated precisely and for pairs long since parted to be re-united. This is the definitive history of Boss & Co. and is fully authorised by the firm.
Price £60 excluding postage