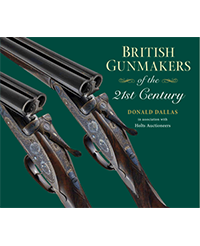 Published in 2108 by Quiller Publishing in association with Holts Auctioneers, hardback, 136 pages, 106 colour photographs. Price £40 excluding postage.

This book gives a detailed account of 19 gunmakers building hand made best guns and rifles in Great Britain today. All the types of guns and rifles on offer are described, as are prices, delivery times, choice of engraving and contact details.

The book is illustrated with over 100 stunning colour photographs taken by the leading gun photographers of today.
Whether you are in the market for a best gun or just want to dream about an order, this is the book that allows you to choose from the best of the best.
Price £40 excluding postage
Please click the add to basket button to add this book to our Roman Cart shopping cart. You may continue to add items by clicking continue shopping or go to our Paypal page to complete the purchase.
Signing and Dedication, I will sign and personally dedicate each book if you wish.