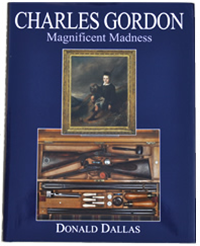 SOLD OUT
Charles Gordon has been a paradox for a considerable number of years. On the one hand his name is known throughout the world, yet on the other hand absolutely nothing was known about the man himself.
Donald Dallas undertook considerable research into Charles Gordon and the story he uncovered is one worthy of any fictional drama. Charles Gordon was a man of wealth and substance, born into an old established family, but a man of unsound mind with a mania for collecting, not only guns but wine, fishing tackle and books, a man who bankrupted his estate ending his days alone with all his possessions sold, insane and incapable of running his affairs.

"This book is a major contribution to the recording of sporting heritage. It deserves a place in the library of anyone who loves fine British guns."



Shooting Times 2nd December 2009.

Charles Gordon was born in 1853, but shortly after his birth his mother died and since his father was a serving army officer, he was adopted by his aunt and uncle who lived at Halmyre House near Peebles in the Scottish Borders. By the time he was 14, his uncle and aunt had both died and although he inherited the large Halmyre estate along with a considerable income, he was left alone to fend for himself. He was of unsound mind throughout his life, one aspect of this being a desire to collect on a massive scale. He bought over 300 guns, rifles and pistols of the very best quality, all in sumptuous cases, about half being muzzle-loaders, a system that was completely obsolete at the time of purchase. Even his breech-loaders were quirky and out of date and he never fired the majority of his collection.
In 1908 a Curator Bonis had to be appointed to direct his life and his house, estate and his possessions were all sold including his gun collection. He died in 1918 in a humble cottage on his old estate.
This book uncovers the privileged yet tragic life of Charles Gordon for the first time. His collection is described in great detail and all his known purchases are listed. The 1908 sale catalogue of his muzzle-loaders is reproduced that will be of great interest to owners of Gordon guns. No longer will Charles Gordon be an enigma, his magnificent madness will enthral all.
Price £50 excluding postage