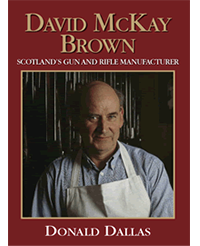 David McKay Brown was born in 1941 in Bellshill, Glasgow. His father, a keen poacher, imbued in David an early enthusiasm for guns and shooting. By his early teenage years, he owned a varied collection of guns and shortly after leaving school, he began a gunmaking apprenticeship with Alex Martin of Glasgow. Martins amalgamated with John Dickson in 1960 and soon David became very familiar with their round action.
In 1967, he set up his own business, initially repairing guns. He was very impressed with the merits of the round action and in 1974, built the first McKay Brown trigger plate round action. In the 1980's, he designed a round action over and under gun, the first such gun being completed in 1992, much admired for its design and elegance.
Since 1974 he has built 578 round action guns and rifles both in side-by-side and O/U configuration. All are of best quality and what is remarkable, is that all the guns are entirely built in his own workshop. David himself is a rare breed amongst gunmakers being able to build every stage in the manufacture of his guns.
This book details David McKay Brown's history from his boyhood years right through to the present. The history and development of the round action and the new O/U gun are described in detail for the first time. There are several chapters on the building of McKay Brown guns that go into great detail about their construction. Several appendices are included that will be of great interest to McKay Brown owners listing all the McKay Brown guns made and the numbers built of each particular type of gun.
This book is fully authorised by David McKay Brown and is the definitive history of the firm.
Price £50 excluding postage
Please click the add to basket button to add this book to our Roman Cart shopping cart. You may continue to add items by clicking continue shopping or go to our Paypal page to complete the purchase.
Signing and Dedication, I will sign and personally dedicate each book if you wish. Just fill in the box below.