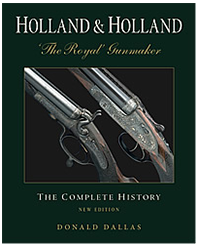 When the 1st edition of this book completely sold out, Holland & Holland asked Donald Dallas to produce a new edition. This brand new 2nd edition brings the history of the firm right up to date and a considerable number of new photographs have been added. The recent history of the firm is described charting many events such as the re-introduction of the Paradox. New appendices have been added including a gallery of very rare Holland & Holland guns, rifles and pistols. Another appendix details the development of the .700 Nitro Express.
Published by Quiller Publishing 2014. 12″ x 10″ hardback.
Price £75 excluding postage
Please click the add to basket button to add this book to our Roman Cart shopping cart. You may continue to add items by clicking continue shopping or go to our Paypal page to complete the purchase.
Signing and Dedication, I will sign and personally dedicate each book if you wish. Just fill in the box below.