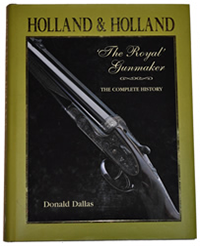 SOLD OUT
published by Quiller 2003, 12"x 9", hardback, 301 pages, 547 illustrations. 
In May 1885, Holland & Holland advertised their new trade mark, "The Royal" – intended to apply to best guns and rifles only. "Royal" guns and rifles have been in production since that date, the choice of name symbolising the excellence of the firm's output.
And yet, gunmaking played no part in the early history of Holland & Holland. The founder of the firm, Harris Holland was a musician and entrepreneur with an interest in live pigeon shooting. Turning this interest into a business venture, he began to retail guns in the 1830's. His nephew, Henry Holland, joined the business in 1860 and made an outstanding contribution to the field of gunmaking with 47 patents to his name. Several of these inventions are still used today – the 1883 Royal hammerless action, the 1904 belted rimless case and the 1922 self-opening mechanism. In 1876 the uncle and nephew created a partnership and Holland & Holland was born. By this time, rifle making had become the speciality of the firm, their prowess at this obvious to all after winning every class in The Field Rifle trials of 1883.
The 20th century saw the firm's tradition of innovation and experiment continue. Henry Holland's son, Jack Holland, a decorated officer of World War One, ran the firm in the difficult years, pre and post World War Two. Following on from his death in 1957, the Holland family interest in the business declined and from the early 1960's, new owners, in a fresh approach, continued to expand, research and produce very high quality sporting guns and rifles revered throughout the world.

"The book is beautifully produced with many illustrations and to my mind is the best book on the history of a single British gunmaker published to date."



BASC, December 2003.
Donald Dallas tells the fascinating story of Holland & Holland from its very beginnings. The history of the family is revealed for the first time and how this affected the business. The terrific variety of the firm's guns and rifles are described in great detail set within the historical context of their era. From punt gun to boys gun, from rook rifle to elephant gun, Holland & Holland supplied them all to every corner of the world.
Several appendices will be of great help and interest to enthusiasts and owners. All 51 patents are described, the dating of Holland serial numbers is given from 1855 to the present day, all the trade labels are illustrated and the rifle cartridges developed and introduced are examined in great detail. The book is profusely illustrated with over 500 photographs, mostly unpublished. In addition, many rare guns and rifles are described and illustrated. This book is written with the full approval and co-operation of Holland & Holland and is the authoritative history of the company.
Price £50 excluding postage