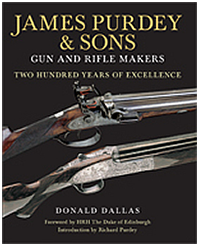 SOLD OUT
This magnificent book, newly updated, details the complete history of James Purdey and Sons. 
This second edition, published to co-incide with Purdey's bi-centenary in 2014 contains much fresh material and hundreds of new photographs.All the Purdey rifle cartridges are listed for the first time and new appendices include the changing style of the Purdey Gun Case and a copy of the admired Purdey Guns Instruction Booklet.
Forward by H.R.H. The Duke of Edinburgh K.G. K.T.
Published by Quiller 2013, 12 " x 10", hardback 472 pages.
Price £75 excluding postage