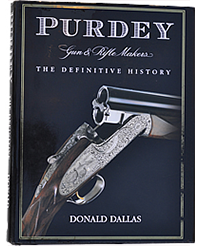 SOLD OUT
published by Quiller 2000. 12"x 9", hardback, 245 pages, 563 illustrations. There is also a French edition, occasionally available.
"There is no gunmaker personally better known than Mr. Purdey; there is none less written about." wrote G.T. Teasdale-Buckell in Experts in Guns and Shooting in 1900. The name "James Purdey & Sons" is universally respected and known the world over as makers of the finest quality guns. Established by James Purdey the Elder in 1816, Purdey built best quality guns, rifles and pistols to the highest standards right from the start. Patronised by European royalty and nobility, they could claim to have built guns for all the nine kings attending King Edward's funeral in 1910. Today the firm continues the tradition begun in 1816.
James Purdey the Elder's son, James Purdey the Younger, took over the running of the firm in 1858 and was responsible for developing the muzzle-loading rifle to its pinnacle, the Express rifle. In 1863, in the early breech-loading period, he invented the most famous closing action of all time, the Purdey bolt. He was quick to see the advantages of the hammerless gun and astute in purchasing and developing the Beesley hammerless action of 1880 that is universally admired today. He created guns of great style and elegance and established the form of the hammerless ejector for all others to follow. At the turn of the century, James Purdey the Younger's son, Athol Purdey guided the firm through the difficult World War One period. His sons, Tom Purdey and Jim Purdey took over during the 1930's depression and kept the firm on course during World War Two and the post war years, continuing to produce guns to the highest standards.
Donald Dallas has produced several appendices of interest to the Purdey owner and collector. Purdey serial numbers are listed for the years 1816-2000 to assist with dating guns; production figures are given to show the rarity of certain weapons; all the Purdey patents are described and of particular interest are the Purdey gunmakers named to help identify initials stamped on the various parts of Purdey guns. Illustrated with over 500 photos and drawings, most of them previously unpublished, the book has been produced with the full co-operation and authorisation of James Purdey & Sons.
"This book without doubt, is a stunning achievement. The promise of a definitive history is more than kept and it is difficult to see how the book could be improved. It is that rarity in the publishing world, an instant classic, and no library should be without a copy."


Shooting Times, 11th January 2001
Price £50 excluding postage